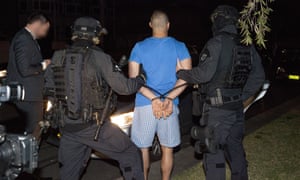 (excerpt..)
Nearly two tonnes of ecstasy bound for Australia has been seized in the Netherlands as part of a massive police sting that resulted in the arrest of members of one of Sydney's most high-profile families.
Seventeen people were arrested in total – including two brothers and the son of Kings Cross club identity John Ibrahim and notorious figures Mustapha Dib and Rock Ahmad.
The arrests include nine men and one woman in Sydney – five people in Dubai and two people in The Hague.
(cont..)
Source: Police seize nearly two tonnes of ecstasy allegedly bound for Australia | Australia news | The Guardian