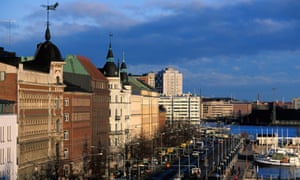 (ed: if jacinda ardern is wondering what to do – to fix the mess she inherited – looking to finland could be a good place to start..eh..?..)
(excerpt..)
Last year on the centenary of its independence Finland was ranked by assorted international indices the most stable, the safest and the best-governed country in the world.
It was also the third wealthiest – the third least corrupt – the second most socially progressive and the third most socially just.
Finland's judicial system is the most independent in the world – its police the most trusted – its banks the soundest – its companies the second most ethical – its elections the second freest and its citizens enjoy the highest levels of personal freedom – choice and wellbeing.
The Nordic country's 5.5 million inhabitants are also the third most gender-equal in the world and have the fifth lowest income inequality.
Their babies are the least underweight – their kids feel the most secure and their teens perform the second best at reading (only third at science – though).
In a century and a half they seem to have done rather well.
And so as the Guardian embarks on a new series investigating the things that are going right in the world – it feels natural to start in Helsinki.
(cont..)
Source: Safe, happy and free: does Finland have all the answers? | World news | The Guardian