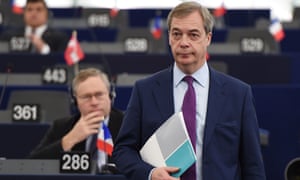 (excerpt..)
Nigel Farage may have given Julian Assange a thumb drive of data and was possibly a more frequent visitor than was publicly known to the Ecuadorian embassy where the WikiLeaks founder lives – according to testimony given to US congressional inquiry into the Trump campaign's alleged ties to the Kremlin.
Glenn Simpson, a private investigator whose company compiled the controversial dossier alleging a conspiracy between Trump campaign officials and Russian agents – told the House intelligence committee that he was told by an unnamed source that the former Ukip leader had given data to Assange but had no proof of the exchange.
'I've been told and have not confirmed that Nigel Farage had additional trips to the Ecuadoran [sic] Embassy than the one that's been in the papers and that he provided data to Julian Assange' Simpson told the committee – according to a transcript released on Thursday.
Asked what kind of data Farage was alleged to have passed to the WikiLeaks founder – Simpson replied: 'A thumb drive'.
(cont..)
Source: Trump-Russia inquiry is told Nigel Farage may have given Julian Assange data | Politics | The Guardian