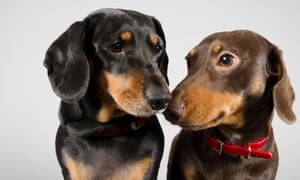 (ed: i have seen many extremely healthy vegan dogs – and have had them myself – one who died recently – lucy – lived to 18 yrs old – lived all her life on a vegan diet…and until just before she went – was in glowing good health..
so i can testify that dogs are fine/happy on a vegan diet – mine would salivate when i chopped up blocks of tofu..waiting for their lumps to be thrown to them..
the other benefits are that they smell good/don't have bad breath or smelly farts..and even temperaments..
their coats are also shiny – i never bathed my 18 yr old….her diet and the natural oils on her body seemed to be more than enough..
so the reasons to feed dogs a vegan diet are many…it does to them what it also does to/for humans..gives them a healthy glow and shiny hair..
it's all good – there are commercial options out there for vegan dog food – or you can make your own – recipies can be found in the archives here @ whoar – or you could just ask the computer..)
(excerpt..)
A growing number of people are advocating for vegan diets for their pets for ethical – environmental and health reasons.
'I live with two vegan dogs and a vegan cat.
We like to feed our animals without exploiting other animals' said Matt Johnson – a California-based vegan activist.
In many cases – the decision to switch meat-loving pets to a vegan diet is made because of the owner's ethical preferences.
Most pet foods are made with byproducts from factory farms – so switching to vegan alternatives is a way to avoid subsidising the industry.
(cont..)
Source: The owners putting pets on vegan diets: 'We feed our animals without exploiting others' | Life and style | The Guardian