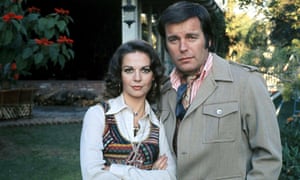 (excerpt..)
Nearly 40 years after Natalie Wood died mysteriously on a boat trip to Santa Catalina Island, investigators have named the actor's husband Robert Wagner as a person of interest.
Los Angeles County sheriff's investigators told 48 Hours – the CBS news magazine series – that they intend to speak to Wagner (87) regarding the circumstances of Wood's death in 1981.
CBS will be airing a special about the case – Natalie Wood: Death in Dark Water – which was reopened in 2011 after the captain of the Splendour – Dennis Davern – stated he had initially lied to police and believed Wagner to be responsible for Wood's death.
Davern alleged that Wagner and Wood had an argument that evening that escalated.
'As we've investigated the case over the last six years I think he's [Wagner] more of a person of interest now' said Lt John Corina of Los Angeles County sheriff's department in an interview with CBS correspondent Erin Moriarty.
'I mean – we know now that he was the last person to be with Natalie before she disappeared'.
Shortly after the case was reopened the Los Angeles coroner's office reclassified Wood's death certificate – previously attributed to accidental drowning – to say 'drowning and other undetermined factors'.
The actor Christopher Walken was also aboard the Splendour with Wagner – Davern and Wood – who was fearful of dark water.
(cont..)
Source: Robert Wagner is 'person of interest' in Natalie Wood death investigation | Film | The Guardian