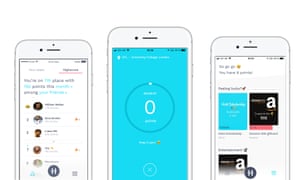 (excerpt..)
It's March 2012 – the middle of exam term and my friend is in despair.
Why?
She can't access her Facebook.
Nordic app Hold is hoping to combat such examples of student smartphone addiction.
It rewards users for not looking at their phones on campus – a task so difficult for my zombified-friend that she resorted to using a website that locks her out of all social media accounts.
In Norway 40% of students use Hold.
One in eight people are addicted to their phones and at university this can be toxic.
Using Hold requires self-restraint: press a button and the app will time how long you refrain from using your phone but there are no punishments if you do.
If you don't however you will be rewarded with points that can be redeemed at partner businesses – you can cash in for cinema tickets for example.
(cont..)
Source: Can an app that rewards you for avoiding Facebook help beat smartphone addiction? | Technology | The Guardian