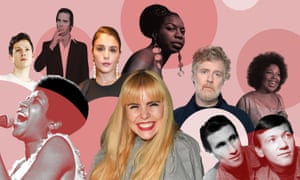 (paloma faith on nick cave & bad seeds: 'into my arms')
(excerpt..)
I had covered it before for Radio 2 and I used to sing it on tour but it really took another layer when I had a child.
It is now to do with unconditional love for me and the selflessness and sacrifice you feel when you become a parent.
My baby was a few weeks old and I sang it quietly under my breath like a lullaby and I started pouring with tears – it was so cathartic.
'I don't believe in the existence of angels/ But looking at you I wonder if that's true' – it's so moving when you're looking at this vulnerable being.
It is life-changing: everything that I once believed in I'm questioning whether it's true – because you're so perfect and beautiful.
(cont..)
Source: 'It gives me those flutters': stars pick their favourite love songs | Music | The Guardian