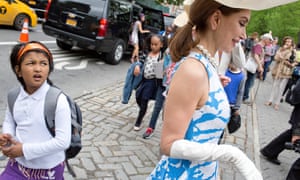 (excerpt..)
European progressives have long looked enviously at social relations in the New World.
George Orwell noted the lack of 'servile tradition' in America – the German socialist Werner Sombart noticed that 'the bowing and scraping before the 'upper classes' – which produces such an unpleasant impression in Europe – is completely unknown'.
This is one of many reasons socialist politics struggled to take root in the United States.
A key attraction of socialist systems – the main one – according to Orwell – is the eradication of class distinctions.
There were few to eradicate in America.
I am sure that one reason Downton Abbey and The Crown so delight American audiences is their depictions of an alien world of class-based status.
One reason class distinctions are less obvious in America is that pretty much everyone defines themselves as a member of the same class: the one in the middle.
Nine in ten adults select the label 'middle class' – exactly the same proportion as in 1939 – according to the pollsters Gallup.
No wonder that politicians have always fallen over each other to be on their side.
(cont..)
Source: How the middle class hoards wealth and opportunity for itself | Inequality | The Guardian