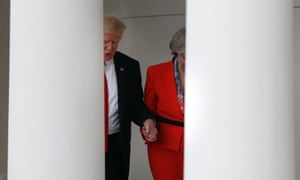 (excerpt..)
May's challenge is to overcome damage already done by the low-level diplomatic vandalism inherent in Brexit.
The political genesis of the decision to quit the EU may have been different from that of Trump's election but it belongs to the same historical disruption.
They are the terrible twins – born in ballot-box insurgency in 2016.
And here's the thing: both were feared at first by fellow democracies as symptoms of a dangerous and contagious new populism.
Now both look more like horrible accidents of circumstance – ballot-box mutations that earn pity for the nations that produced them.
Brexit clouds everything May says in a miasma of unreliability.
It is diplomatic halitosis.
The prime minister will advertise UK ambitions for free trade – security cooperation and tackling climate change.
It won't mean anything before the terms of departure from the EU are settled – because the club of European powers is where her capacity to influence those matters has until now been amplified.
(cont..)
Source: From Brexit to Trump, on both sides of the Atlantic populism has run aground | Rafael Behr | Opinion | The Guardian