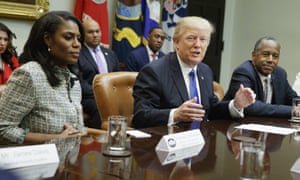 (ed: yes please..!..)
(excerpt..)
Former Apprentice star Omarosa Manigault-Newman said she had felt uncomfortable and upset in the White House as its most high-profile African American woman – as she denied reports she had been fired from her post as an assistant to Donald Trump.
She also hinted strongly that she had revealing and potentially damaging stories to share from her time in the Trump administration.
'As the only African American woman in this White House – as a senior staff and assistant to the president – I have seen things that have made me uncomfortable – that have upset me – that have affected me deeply and emotionally – that has affected my community and my people' Omarosa said.
(cont..)
Source: Omarosa Manigault-Newman on the White House: 'I've seen things that made me uncomfortable' | US news | The Guardian